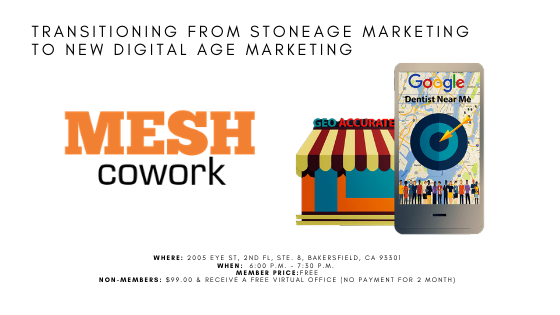 Join us for this one-of-a-kind workshop. This workshop will train you how to get the most bang out of your buck. That's right! The information you will learn will change the productivity and perception of your business immediately.
We will teach you:
What is a Virtual Office? Do I need one?
What is considered Stone-age marketing?
How to transition to New Age Branding.
Fundamentals of Business Branding
Why am I not getting the results I want from my current strategy?
How do I start getting results for my efforts without having to spend thousands of dollars?
How long until I see results?
Please join us on Feb. 10th at 6:00pm at Mesh Cowork located at 2005 Eye Street, 2nd Floor, Ste. 9, Bakersfield, CA 93301
Where:
2005 Eye St, 2nd Fl, Ste. 8, Bakersfield, CA 93301
WHEN:
6:00 p.m. - 7:30 p.m.
Member Price:
Free / when you bring someone that you know will benefit from this information.
Non-members:
$99.00 & receive 2 months FREE on our Virtual Office 1 (VO1).
View Virtual Office Plans