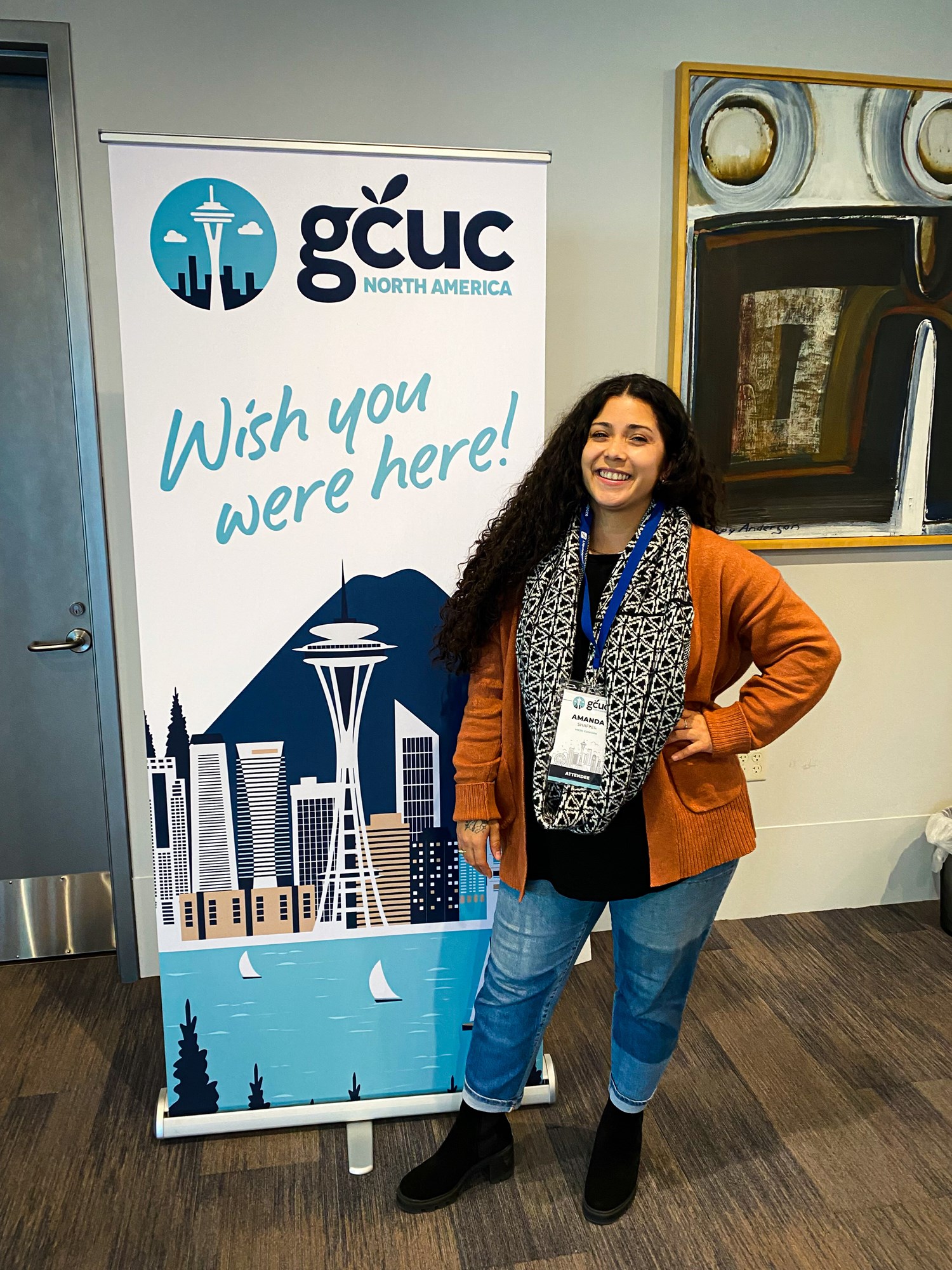 Hi! I am Amanda Shaffer and I am the Community Manager with Mesh Cowork. I generally make sure things are running smoothly and assist when needed. I LOVE to bring people together for good conversation and connect entrepreneurs with the help they need. I am also a member of Mesh [Cowork]. I have been in the space for over 4 years and have been a little obsessed with the organic growth while connected with the space-huge shoutout to Tabari Brannon and Scott Burton!
This spring, GCUC was held in Seattle, Washington. GCUC (pronounced "Juicy") stands for Global Coworking Unconference Conference and is the largest coworking conference in the world. I went into this event with open ears and curiosity. My main focus was to connect and learn. I didn't have a huge expectation. I had never traveled or been to a conference for work before so the whole experience was going to be new for me.
Take a look at all I experienced over the 3-day conference…
Day one- Arrival
5:30 pm- I flew into Seattle and took the light rail from the airport to Westlake where I walked about 10 minutes to The Belltown Inn where I was staying for the trip.
7:30 pm- After settling into the inn, I looked up a rooftop bar for dinner and drinks. I ended up at MBar. [It] has the most BEAUTIFUL views of Seattle, and the meal was beyond delicious. I ordered the cabbage rolls (I got the last order, which HAD to mean they were great, and they indeed were) and their sweet leaf signature cocktail. Following dinner, I walked back to The Belltown and rested the remaining of the evening
Review of the first day: Seattle is BEAUTIFUL, green, and fresh.
Tip: If you can walk, WALK! So much to see and appreciate.
Day two-First day of GCUC
7:50 am- I walked to the conference center. The GCUC staff greeted me. Vendors were getting set up. Other than that, not many people had arrived yet. The first person I met was Belle Morales of The Sliding Door Company based in Los Angeles. She was friendly and it was a good conversation to have to ease me into the MANY conference conversations I would have over the weekend. Following, I found breakfast (provided), it was a great continental spread and really got me in the mood to work!
9:00 am- Headed to "Fundamentals of Flex" which was geared towards newcomers to coworking. Jerome Chang the founder of Blankspaces based in LA was the host and chimed in with helpful tips throughout the whole day. We listened to two presentations, one on brand-building from the founder of Hygge Coworking, Garrett Tichy, and the other being real estate/financing with Giovanni Palavicini of Avison Young.
11:45 am-GREAT LUNCH! I got to connect with others that are interested in either opening a space, have recently opened space, or have been in the business for years.
12:45 pm-It was back to" Fundamentals of Flex" and I listened to "Franchising Options" with Venture X and Office Evolution, "Space Design" with Mara Houser of 25N Coworking, "Hospitality and Community Building" with the founder of Coworking NC, Clark Rinehart, and "Operations and the Technology Behind It" with Barbara Sprenger, the founder of Satellite Workplaces & Satellite Deskworks.
End of day thoughts: I was overwhelmed due to talking and being around so many people but excited for the energy and knowledge that was being shared.
Day three-Second day of GCUC
8:30 am-Walked to the conference center. It was raining, I grabbed an umbrella from the inn but that was a bad idea. With the rain and wind, the umbrella ended up being useless.
8:45 am-Breakfast! Another great continental breakfast was provided by GCUC.
9:30 am- Day started with Benjamin Dyett, who opened his first space in 2011. Dyett had great energy!
We went on to listen to Liz Elam, who is the founder of GCUC. She shared why people thrive in coworking spaces: "Coworking brings people together, coworking supports neighboring businesses, coworking networks are a top source of or getting work…" and so many other great facts.
Next, we listened to Elizabeth Scallon, founder of Find Ventures. Elizabeth was hilarious and like many others, I LOVED her energy. My takeaway from Scallon was that innovation is a key leadership function. The question I posed to review Mesh staff: How can we evaluate what our members need or want and create innovative solutions to those needs and wants?
Following we listened to "The War on Talent" with Brad Krauskopf of Hub Australia, Angie O'Grady of Stella Pop, and Anise Cavanaugh of Active Choices. This segment was all about hiring and retention.
Overall thoughts of the day: Inspiring day, full of great information, data, energy, design, and encouragement. I felt less overwhelmed on the second day and more comfortable talking with others.
Final day- Tours of Coworking Spaces in Seattle
10 am- Walked to ThinkSpace, had a panel discussion with Liz and Stormy of GCUC then a tour of ThinkSpace.
-Visually: ThinkSpace is BEAUTIFUL, directly on the waterfront, and has huge windows so it feels like you are on the water.
-Functionally: Open space concept with coworking, kitchen, and private offices surrounding. Things I loved were the phone booth rooms and stage for events.
-Perks- Stand-up paddle boards can be rented. They have a floating deck for you to work on with tables and chairs (SO COOL), and their kitchen area was fully stocked with water, add-ins for coffee, tea, and vending machines for soda and snacks.
The remaining of the day was left for lunch and a trip to the airport.
The Overarching Takeaway from GCUC-
We are in the hospitality business. We need to make sure our members know that we care, and find great ways to consistently show that.

Attending conferences is more than what you learn, but the motivation and momentum you gain from the energy shared, and the relationships that are built.
Source: (https://www.nadimama.com/mbar)
Edited by: April Reed